The general process for preparing Hanover's Sustainability Master Plan is provided in the adjacent image. It consists of five steps:
Identify Opportunities and Challenges;
Set the Community Vision & Goals;
Prepare Recommendations;
Develop the Implementation Plan; and
Implementation, Tracking and Continuous Improvement.
Throughout this planning process, public engagement will serve as a foundational component. A Public Involvement Plan will be developed that seeks to engage the community broadly in an open and transparent way. Creating shared knowledge and building consensus will be key to the success of this Master Plan.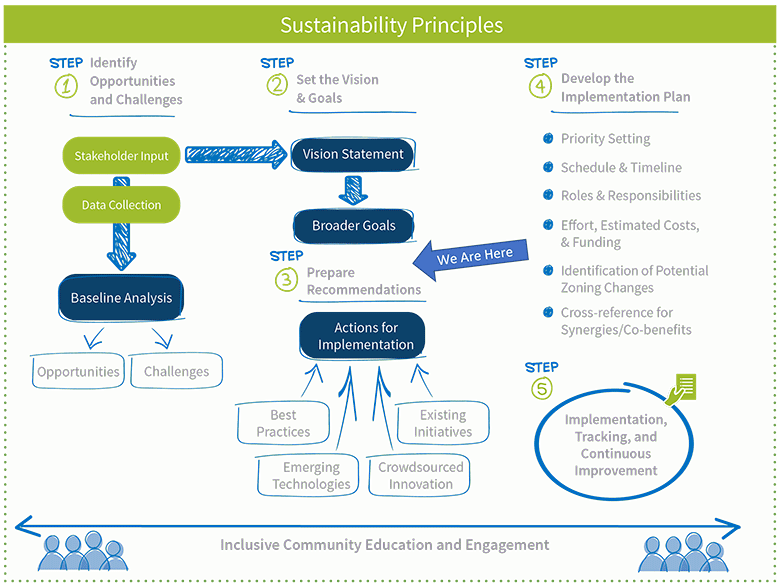 Step 1:


Identify Opportunities and Challenges

In this phase, the Project Team will develop a deep understanding of Hanover and identify current and projected issues and opportunities through the collection of early stakeholder input, a review of existing reports and studies, and the analysis of quantitative and qualitative data.
Step 2:


Set the Community Vision & Goals

Building on Step 1, the community will set its own vision for the next 10 to 15 years. Goals will be developed to support the achievement of this vision and to guide the development of the policy framework. Sustainability principles will be identified through the visioning process that will serve as the organizational elements of the Plan.
Step 3:


Prepare Recommendations

In this phase, an inventory of actions will be developed and a set of recommendations will be prepared in consideration of their rationale for inclusion and potential trade-offs. Such actions may derive from recent planning efforts.
Step 4:


Develop the Implementation Plan

Following Step 3, an implementation plan will be crafted that will prioritize and schedule specific recommendations in line with implementation capacities, as well as identify responsible parties and partners along with available funding and technical assistance opportunities. Recommendations would be assessed for their potential to change existing regulatory structures and for their potential to have co-benefits.
Step 5:


Implementation, Tracking and Continuous Improvement

This final step involves celebrating the Plan by presenting it to the Planning Board and community at-large. The Hanover Sustainability Master Plan will be a living document, and accordingly, will require regular review and periodic updating. It is anticipated that the Planning Board or some other entity (e.g., an Implementation Committee) will be charged with overseeing the implementation of the Master Plan and related monitoring and progress tracking. As conditions change, and as various recommendations of the plan are implemented, the Town may find additional projects and/or strategies with which to achieve its goals and objectives.
The development of the Hanover Sustainability Master Plan is expected to run the course of up to 18 months. The anticipated completion date is January 2023.

Text-based Master Plan Schedule Description
Step 1 - Identify Opportunities and Challenges: August 2021 to January 2021
Step 2 - Set the Community Vision & Goals: November 2021 to March 2022
Step 3 - Prepare Recommendations: February 2022 to June 2022
Step 4 - Develop the Implementation Plan: July 2022 to December 2022
Step 5 - Implementation, Tracking and Continuous Improvement: January 2023